Did you know that January is National Mentoring Month? National Mentoring Month is a high-profile campaign that showcases the important impact adult involvement has in assisting young people with reaching their full potential. Research has shown that when matched through a quality mentoring program, mentors play a critical role in encouraging youth to make healthy decisions and refrain from risky behavior, such as skipping school and using drugs. As reported in The Mentoring Effect, young people who were at-risk for dropping out of high school but had a mentor were 55% more likely to be enrolled in college than those who did not have a mentor. Understanding the importance of mentoring in the lives of young people, LYFE began offering mentoring to student parents in SY 13-14 to complement the work we do at sites. Over the past two school years, LYFE has offered mentoring to 12 student parents. In honor of National Mentoring Month, we are highlighting 3 examples of successful LYFE mentoring relationships from SY 14-15.
Model Matches
Sam Rosado, D79 Director of Referral, Enrollment and Transition, was matched with Ahmed Cano from LYFE at Environmental Studies. By sharing his passion for criminal justice reform, Sam arranged for Ahmed to participate in his first book talk! As a result of this mentoring relationship, Ahmed is more aware of the world around him and is also strengthening his professional skills. Sam has also supported Ahmed with his role as a father and with developing his professionalism in the workplace. In addition, Sam has assisted Ahmed with post-secondary planning by helping him with applying to Co-Op Tech. Although a year has passed, the momentum between this pair is still strong!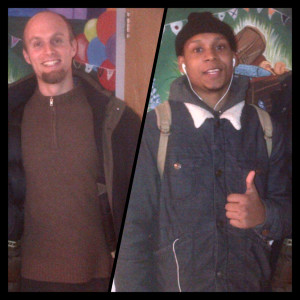 Nicole Crane, Instructional Coordinator at the Division of Early Childhood Education, was matched with then 19-year- old, Elysha Veras from LYFE at Environmental Studies. Bonding based on shared life experiences and their roles as parents, Nicole was able to support Elysha with meeting everyday challenges and building confidence. Although Elysha's son David is no longer enrolled in LYFE, Elysha continues to benefit from her mentoring relationship with Nicole!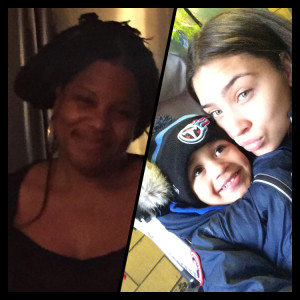 Nick Marinacci, Senior Executive Director of D79 Youth Justice Education and Treatment Programs, was matched with Khalid Fambro from LYFE at South Bronx in March 2015. Initially, communication between the pair was difficult. However, when Khalid needed support, he knew he could depend on Nick to help him figure out his next steps and to connect him to the right resources. When completing his goal of graduating High School became challenging, Nick supported Khalid with obtaining his High School Equivalency and an OSHA certification. Nick continues to encourage Khalid to further his education. This pair is currently exploring Co-Op Tech as a post-secondary option for Khalid and is looking forward to continuing their relationship and connecting more!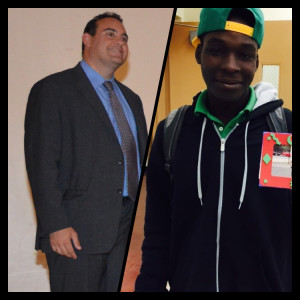 What amazing examples of how an additional trusted adult can impact the lives of our student parents and enhance the work we do as a program! It is our hope that providing mentoring will lead to improved attendance, retention and graduation rates, as well as expose students to new opportunities.
For more information about LYFE's mentoring program, visit: For more information about LYFE's mentoring program, visit: http://lyfenyc.org/get-involved/.