LYFE 2015 Recogniton Ceremony – Onward & Upward
On Wednesday, May 20, 2015, the LYFE Program hosted its third Student Parent Graduate Recognition Ceremony, titled Onward & Upward. The event was held at Scholastic Corporation in Soho, NY.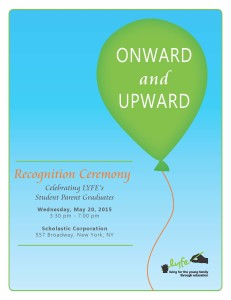 Collective of LYFE's 35 sites, LYFE celebrated the upcoming June graduation of over 100 student parents. The ceremony was a great success with approximately 265 guests including, student parent graduates, their children, LYFE staff, and external partners in attendance to celebrate and recognize LYFE student parents and their amazing triumphs.
The evening began with a family-friendly reception including food and entertainment — magic tricks, face painting, and photography! LYFE had a very special visit from the NYC Department of Education Chancellor, Carmen Farina, who addressed families and guest, sharing her perspectives about early childhood education and the role of family engagement.
The reception was followed by an awards ceremony honoring student parents' achievement and acknowledgement special honorees.
Here are a few highlights from our spectacular and inspiring award ceremony:
Jonathan Lulov, Social Worker from LYFE at Brandeis and West Side High Schools received the LYFE Staff Support Award. Jonathan was nominated by 4 student parents this year — the most submissions received for one staff member! Jonathan has worked in the LYFE Program for 6 school years and has always demonstrated a strong commitment to providing advocacy and unconditional support to LYFE student parents.
Manolia Rodriguez, a student parent from LYFE at Franklin K. Lane was the recipient of the LYFE Inspiration Award, which recognized her resilience toward academic achievement. Despite emigrating to the U.S. without the ability to speak English and losing the support of her family, Manolia has maintained good grades and has been a relentless advocate for her daughter, who has a hearing impairment and receives both occupational and speech therapy. Manolia ensures her daughter receives the care she needs, while also managing the demands of completing her education as a young parent.
The Gonzalez Family, received the LYFE Legacy Award to honor their engagement and success as a family in LYFE. While many young parents lose the support of their families when they themselves become parents, Cindy Gonzalez  from LYFE at Franklin K. Lane's mother, Delia Alvarez, has remained Cindy's biggest supporter by picks up her grandson Matthew from LYFE almost every afternoon so that Cindy can attend afterschool classes to recover credits and receive tutoring toward completing her high school education.
Diaz and Perez Family, the recipients of the LYFE Legacy Award which celebrates the family's engagement and success as a family in LYFE. As co-parents in the LYFE Program, Axel Diaz and Anabelen Perez worked together to support each another in attending their classes and encouraging post-secondary planning. They have actively worked to strengthen their relationship in order to set a positive example for their entire family.
Janira Moore, LYFE student parent and student speaker was awarded the LYFE Academic Achievement Award for her excellence in completing her high school education. Janira, a 16 year-old student parent and mother of a 1-year-old Joshua Moore, accomplishments include maintaining a B+ average, while participating in extracurricular activities, such as track and field and performing arts. In addition to these achievements, Janira completed the STEM Program (Science, Technology, Engineering and Math) at City College last school year. Her academic performance has resulted in her being accepted to several colleges and universities.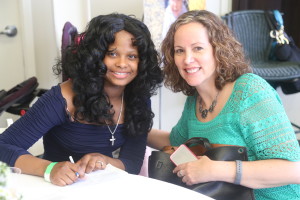 Congratulations to the LYFE student parent graduates, to the LYFE award winners and to all the LYFE staff members who helped these students reach their goals and realize their potential, academically and socially.
Photos from LYFE's 2015  Recogniton Ceremony can be found on LYFE's Facebook page: https://www.facebook.com/lyfenyc or by clicking  here for a direct link to the ceremony album.