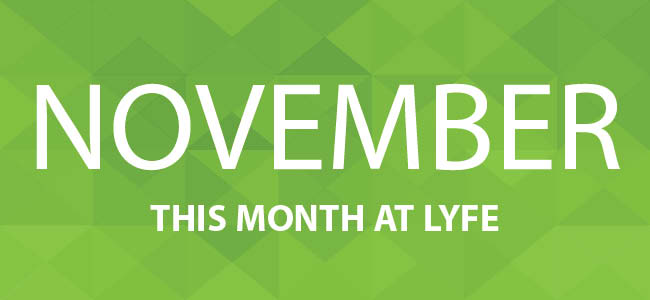 Fall Festivals
To kick off autumn celebrations, Fall Festivals were held across the LYFE program during the month of November! Families at Springfield Gardens Educational Campus were treated to a classroom pumpkin patch! Children picked a pumpkin to decorate with their family and have their picture taken. Children at the LYFE classroom at Brandeis created a Welcome Fall entry to their site! During neighborhood walks, children explored all things Fall, from pumpkins, to leaves, to the smells of warm cinnamon!
LYFE at Springfield Gardens provided lots of fun for LYFE families with a pumpkin patch in the classroom!
LYFE @ Brandeis students went pumpkin picking during their neighborhood walk!
Check out how Fall looks on LYFE's Facebook page!
---
Farm Fun
Each year, Green Meadows Farm turns LYFE classrooms into a real-life petting farm!. Student parents and their children engaged with furry, slithery and feathery animals such as a chinchilla, a female toad, a Madagascar cockroach and more! Infants and toddlers were excited to learn about their new friends and turned out be more braver than many student parents, who were too scared to touch the animals!!
LYFE engaging a student to meet a new slithery friend@ Beach Channel Teacher!
---
Parent Conferences
Parent Conferences were held on November 17th and November 18th. Over 500 students, student parents and family members attended Parent Conferences at LYFE. Parent Conferences provide LYFE student moms and dads, as well as their extended family members, the opportunity to obtain individual updates about their child's progress, as well as their own. LYFE families at Springfield Educational Campus, Telecommunications and Paul Robeson High School had 100% attendance for their Parent Conferences. Borough-wide, Manhattan/Queens LYFE sites had the highest attendance for parent conferences!!
Each LYFE site celebrated parent conferences in a unique way. The LYFE team at Port Richmond High School created unique individual student portfolio's to present to each LYFE families during their parent conferences.
LYFE @ Performance Conservatory High School created hand collages during their parent conferences. The smiles tell how much LYFE student parents enjoyed talking about their children with staff!
---
Paper Tigers Documentary
On Tuesday, November 1st , Bank Street College of Education hosted a special screening of the documentary Paper Tigers, which addresses trauma-informed education. Following the screening, a panel discussion facilitated by Troy Pinkney, Director of Child Life at Bank Street with LYFE's Principal Dr. Kara Ahmed, alongside Karina P Diaz, LCAT, ATR Clinical supervisor At Bonding Links Mental Health Clinic at the Coalition for Hispanic Family Services, Kimberly Noble, MD, PhD, Assistant Professor of Pediatrics, with a joint interdisciplinary appointment at the Sergievsky Center at Columbia, Wendi Williams Associate Dean of Academic Affairs at Bank Street and Psychologist was held. LYFE's Principal Dr. Ahmed contributed to the rich conversation discussing the innovative and empathetic ways LYFE supports student parents who have and are currently experiencing trauma.
"Paper Tigers was extremely impactful. There was not a dry eye in the room after viewing the documentary. This entire experience, from participating on a panel with esteemed professionals, to viewing such a powerful documentary, has been inspiring and speaks volumes about the critical work that LYFE does daily." ~ Dr. Kara Ahmed
LYFE staff were in attendance to support LYFE's contribution to the panel and had the following to express about the message they received from the inspiring night:
LYFE Social Worker Barbara Hirschman stated: "The movie really resonated with me, as I was able to identify and associate the connections made between the students and teachers in the movie. Since we (LYFE) are a small program, I am able to form those attachments and build strong connections with my (LYFE) families. The key word is relationships. Building relationships with students and student parents is what supports their long-term success. I was truly inspired by the documentary."
LYFE Educational Paraprofessional Betty Passik shared the following: "I had an opportunity to attend the screening of "Paper Tigers," followed by a panel discussion that included our principal Dr. Kara H. Ahmed on Nov. 1, 2016. It brought the reality of what some of our student parents struggle with in their daily live such as unhealthy relationships, financial hardships and so much more. I was able to gain a different perspective about my own interactions with our (LYFE) student parents. It gave me a deeper appreciation of how, as a team, we can make a difference in student parents lives."
LYFE Social Worker Jennifer Schwam shared her reflections: "In watching the film I was struck by how similar the issues of LYFE student parents are to the students featured in the documentary. Despite the difference that our student parents are part of a large, urban school community and those in the film are part of a small, suburban, rural school community, the issues faced by the students have so much in common. By taking into account the adverse childhood experiences of the students in their program, social workers, teachers, and nurses in this alternative high school were able to work with the students successfully in a way that mirrors LYFE's own core values, particularly the focus on working relentlessly to ensure students' goals by removing barriers to success. Watching this film provided extra validation that the kind, committed, individualized and self-empowering approach utilized by LYFE is truly effective. Seeing this play out on the big screen was personally empowering and meaningful to me as a LYFE social worker."
LYFE Principal Dr. Kara Ahmed was a panel participant during Bank Street College of Education screening of the documentary Paper Tigers. Dr. Ahmed discussed the positive impact of LYFE's high-quality early childhood education and advocacy services for students, student parents and their families.
To see more photos from the panel discussion, visit LYFE's Facebook page!