On Tuesday, May 24, 2016, the LYFE Program hosted its fourth Student Parent Graduate Recognition Ceremony, titled Let LYFE Inspire You. The event was held at Columbia University!
Across LYFE's 35 sites,  LYFE had  over 100 LYFE student parents graduating from the New York City Department of Education high schools and programs in the 2015-2016 school year. The ceremony was a great success with nearly 300 guests including, student parent graduates, their children, LYFE staff, and external partners in attendance to celebrate and recognize LYFE student parents and their amazing triumphs.
Here are a few highlights from our spectacular and inspiring award ceremony:
The Gonzalez Family, received the LYFE Legacy Award to honor their engagement and success as a family in LYFE. While many young parents lose the support of their families when they themselves become parents,  Rosanell Gomez from LYFE at Thomas Jefferson High School's mother, Anel Gomez, has supported Rosanell and grandson, Gabriel with attending school and LYFE every day, which has resulted in Rosanell receiving numerous attendance awards at school. As a family, both Rosanell and her mother, volunteer in the LYFE classroom and often contribute food and helping hands during LYFE program events. They also serve as mentors to other LYFE student parents and families, helping them to strive for success and overcome everyday challenges.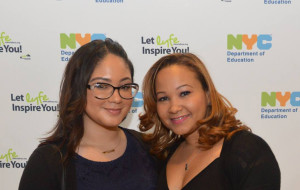 Alexandra Torero-Chambers, a student parent from LYFE at Franklin K. Lane was the recipient of the LYFE Inspiration Award, which recognized her resilience toward academic achievement. Over the years, Alexandra has experienced a lot of family loss which left her with limited resources, severed relationships, and minimal support as a single parent. Alexandra overcame the hardships of her upbringing and personal challenges, evolving into a more positive, amendable, and receptive student and parent. There was a time when Alexandra was not attending school regularly and shied away from guidance. Alexandra is now relentless in the pursuit of her education and even rides a bike to school daily with two children in tow, no matter the weather, to make sure she and her children are in school. 
Diana Jimenez, LYFE student parent and student speaker was awarded the LYFE Academic Achievement Award for her excellence in completing her high school education. Diana, an 18 year-old student parent  and mother of 3-year-old, Ethan Jimenez. In addition to these achievements, Diana also participated in community service projects and internship experiences during high school career. Her accomplishments include maintaining an A- average, while working part-time, participating in community service and Army ROTC. In addition to these achievements, Diana also participated in community service projects and internship experiences during high school career. Diana will receive a Regents Diploma in June 2016 from Urban Assembly Gateway School for Technology. Her academic performance and commitment to service has resulted in receiving an Army ROTC scholarship. Diana will attend BMCC in the Fall of 2016 and plans to study computer science.
Susan Farrell-LaPlante, Social Worker from LYFE at Dewitt Clinton received the LYFE Staff Support Award.  Susan was nominated by 3 student parents this year. She is described by her students as amazing, supportive, trustworthy, patient, caring and helpful. Susan has continuously and relentlessly helped student parents apply for Regents appeals. Given her diligence as an advocate, students have gone on to pass the Regents and graduate on time! This would not have been possible without her knowledge and tenacious spirit. Moreover, she has supported student parents with strengthening relationships within their families and as co- parents where they have had little hope of reconciliation. In her practice, Susan has developed and facilitated support groups for fathers and groups for the parents/guardians of student parents. This has helped families as a whole to become more cohesive and more empowered to navigate community resources and reach their personal goals.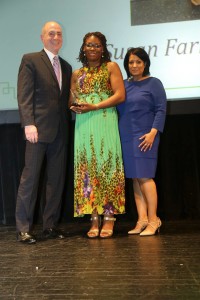 Congratulations to the LYFE student parent graduates, to the LYFE award winners and to all the LYFE staff members who helped these students reach their goals and realize their potential, academically and socially.
Photos from LYFE's 2016  Recognition Ceremony can be found on LYFE's Facebook page: https://www.facebook.com/lyfenyc or by clicking  here for a direct link to the ceremony album.