LYFE Social Worker Jodi Kaltner represented District 79 on May 3, 2014 at a city-wide parent conference event, "Fostering Parent Leadership for Student Success" hosted by the NYC Department of Education in partnership with the Coalition for Educational Justice at the High School of Fashion Industries. Special guest speakers for the event were Chancellor Farina and Charlane McCray, wife of Mayor Bill DeBlasio. The purpose of the event was "to empower parents as leaders, and to reinforce the essential role of parents in their children's academic success."
Ms. Kaltner recounted that the Chancellor shared her memories of attending parent-teacher conferences with her mother who did not speak English and the impact of that experience on her life. Chancellor Farina expressed making parent-teacher conferences more accessible and engaging for all parents. Pitching the ideas of extended times and days of conferences along with having student-facilitated conferences as an initiative to encourage active participation of families at parent-teacher conferences. This concept closely aligns with LYFE's facilitation of Parent Conference throughout the school year. LYFE's goal has been for each site team to plan and implement meaningful Parent Conferences, based on scheduling that works for families, that encourage student parent voice and create an inclusive and accommodating environment, making it possible for not only parents to attend and participate, but extended family members and custodial guardians as well.
Ms. Kaltner, who enthusiastically participated in the different workshops offered, summed up the message of the conference that as parents and school staff, we must work collaboratively together to ensure the success of students. Ms. Kaltner also had an opportunity to speak with Chancellor Farina who shared that she is proud of all the work that takes place in our program and all District 79 programs.
We are glad to hear about the Chancellor's thoughtful support of parent conferences as a way to improve family engagement and student success.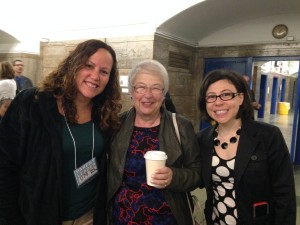 Jodi Kaltner, School Chancellor Farina and Nicole Goren


On April 12, 2014, Diane Whitaker-Brown, LYFE Social Worker at Julia Richman and Long Island City High Schools, and 4 student parents from LYFE at Long Island City high school, spent the day participating in New York Cares Spring Clean-Up Day!
Ms. Whitaker has been volunteering with New York Cares since 1995 and is always seeking to inspire student parents and provide them with enriching experiences. Considering that New York Cares is an organization whose mission is to meet pressing community needs by mobilizing caring New Yorkers in volunteer service, Ms. Whitaker thought volunteering with her students would be a great opportunity and made arrangements for them to volunteer during their Spring Break.
The group was assigned to Jamaica Bay in Queens.  Together, along with other Long Island City High School students and Ms. Whitaker, LYFE student parents removed trash and waste to help beautify the beach and surrounding areas. At the end, the beach was nearly spotless and the students felt great about doing something nice for the community. The volunteers also appreciated getting to know each other better and sharing laughs.
The group even received a letter of special recognition from New York Cares and the American Littoral Society for Coastal Conservation. Ms. Whitaker and LYFE Long Island City student parents are certainly a great representation of LYFE's core value of fostering a supportive environment!
4 LYFE students with 2 other Long Island City High School students